The Last Thing, a Jack Tyrrell Novel by Geoff Loftus
On a beautiful Saturday afternoon in May, a professional assassin targets a newlywed couple as they emerge from church of St. Luke in the Fields in the West Village in Manhattan. The couple, framed in the church doorway, form a perfect shooting solution for the assassin, but Jack Tyrrell, former Green Beret and U.S. Marshal, happens to stroll by just as the shooter prepares to fire.

Tyrrell saves the bride and groom, but the assassin escapes to resume his serial killings of newlyweds with Tyrrell and his guardian angel and partner, Harry Mitchum, in pursuit. Why would a professional hitman target couples as they exit their wedding ceremonies? And why, six years earlier, did the murderer target Tyrrell's wife, Maggie? Was she the first victim in the serial killings?

Now Tyrrell will do whatever he has to do to stop his wife's killer. Even if it's the last thing he ever does.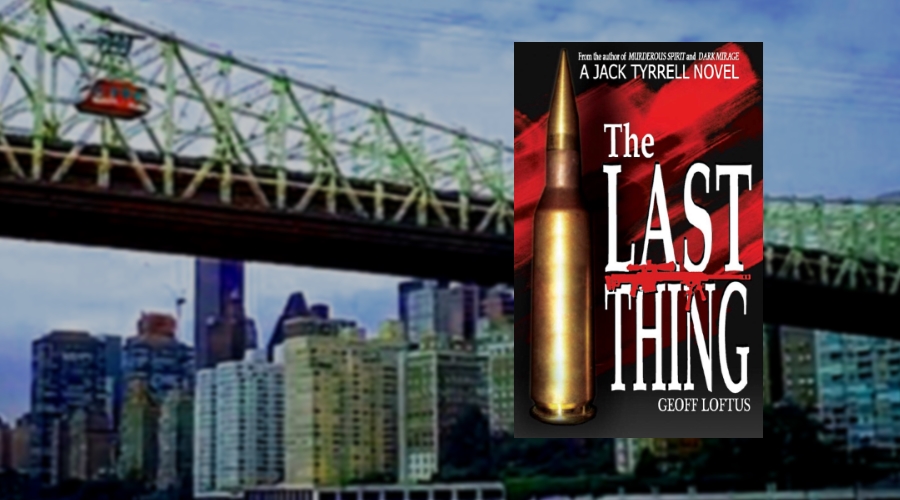 "If Dostoyevsky had created an action hero, that hero would be Jack Tyrrell. He's a good man who did a horrible thing and suffers the consequences for years afterward. Tyrrell's conscience not only never leaves him, it drags him down — he can rationalize his past behavior, but he can't forgive himself for what he did. In The Last Thing, Geoff Loftus has mixed Crime and Punishment with a blam-blam action protagonist, and the result is
another soulful, action-packed story in the Tyrrell series."
- Theodore George, author of The Deadly Homecoming and The Murders on the Square

Available in E-Book and Trade Paperback at Amazon, Barnes & Noble, CreateSpace and iBooks.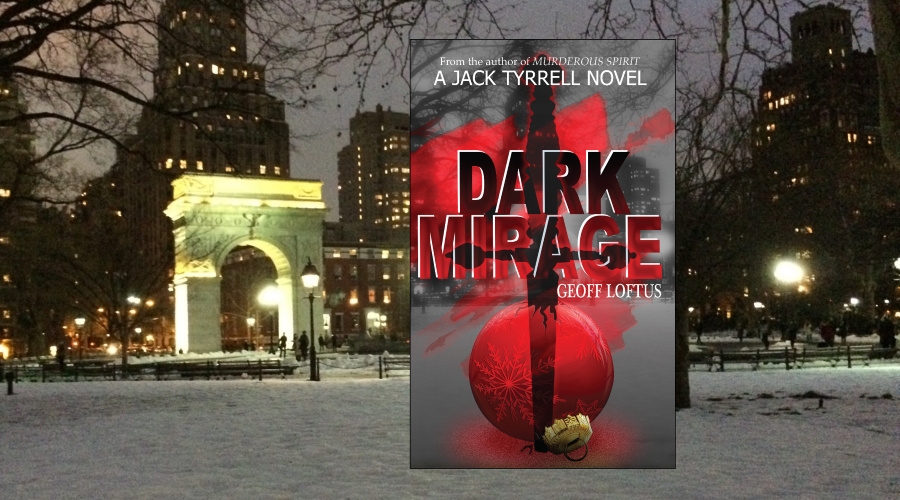 Just weeks before Christmas, Marissa Carvajal wakes up naked and soaked in blood, a billionaire's corpse next to her in bed. She has no memory of the night before, no memory of his murder, and agonized over
the horrible possibility that she killed the man.

Jack Tyrrell, former Green Beret and U.S. Marshal, and Harry Mitchum, Tyrrell's guardian angel, will do whatever
they can to save her, racing against the NYPD, a private security force the size of a small army, and a group of lethal, Chinese spies ― all of whom want to catch Marissa and send her to prison. Or worse.

A gorgeous, troubled woman, a dead billionaire, action, high tech, and national security combine with questions of free will and moral responsibility to give this thriller a spiritual thrust.

"Had Philip K. Dick channeled Charles Dickens, Jack Tyrrell is the character he would have created. A clever mix of A Christmas Carol and a stylish modern thriller, it's a good read for lovers of either genre. Dark Mirage is action-packed yet soulful, traditional yet highly original, it's a well-balanced, enjoyable opus that leaves
readers wanting more Tyrrell stories."
- Theodore George, author of The Deadly Homecoming and The Murders on the Square.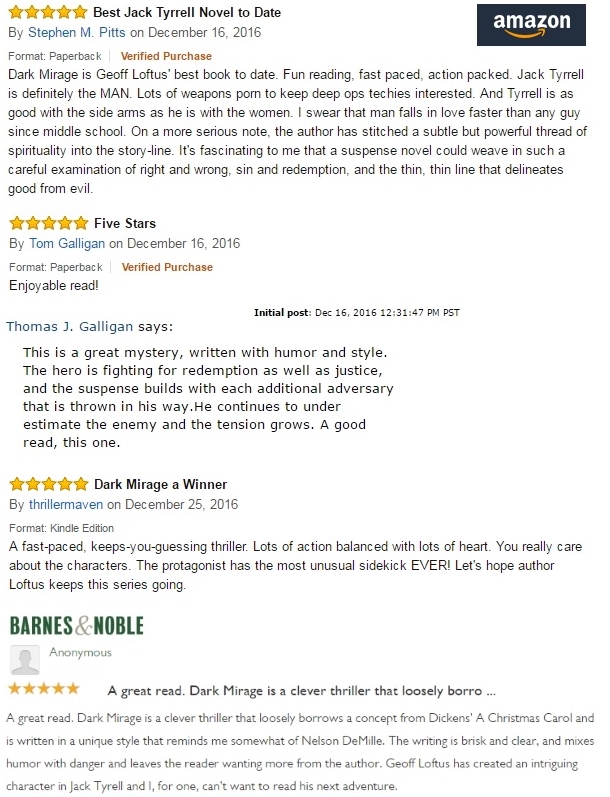 In Trade Paperback from CreateSpace (an Amazon Company)
Available in E-Books and Trade Paperback from BARNES & NOBLE and AMAZON
Available in iBooks at the iBOOKS STORE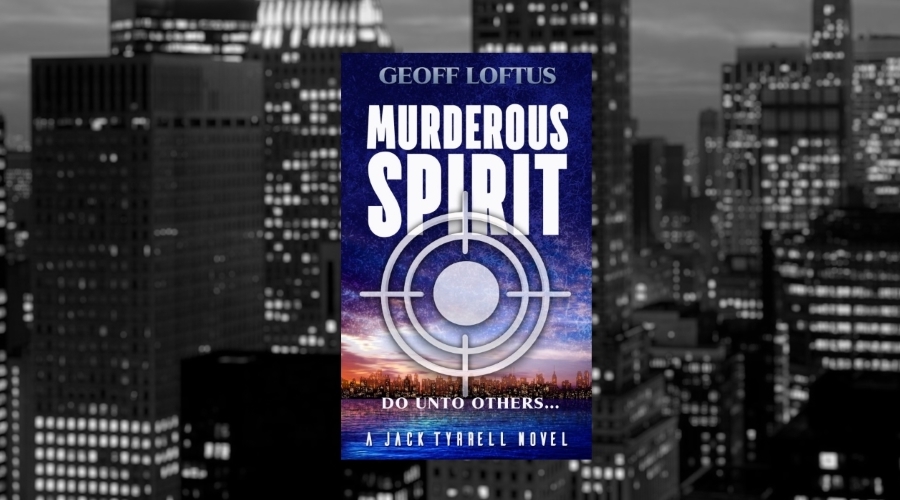 "Can one author combine a thriller, a romance and a ghost story? Geoff Loftus does so admirably in his fast-paced, well written and engrossing new novel about a man given a second chance from a wholly unexpected source:
his dead wife, whose murder he holds himself responsible for.
Let this one-of-a-kind story teach you something about love, forgiveness and even faith."
James Martin, SJ, bestselling author of The Jesuit Guide to (Almost) Everything, A Jesuit Off-Broadway and The Abbey.

Jack Tyrrell was a burn out. A former Green Beret and U.S. Marshal, he's become a drunken loser who, once upon a time, accepted a bribe and was shot by the people who bribed him. Tyrrell survived the shooting. His wife, Maggie, did not.

Five years after her death, Maggie appears to him as a ghost and offers him a chance to make things right. She introduces Tyrrell to Harry, who may literally be heaven-sent. Tyrrell, with Harry working as his case manager, sets out
to help a veteran who's suffering from PTSD and has assassinated a pair of Wall Street CEOs.

Action, murdered Wall Street titans, the Russian mafia, and a beautiful woman mix with questions
regarding free will and what constitutes moral behavior to give this thriller a spiritual edge.

Tyrrell's story is a mix of Charles Dickens, Philip K. Dick and thriller
told by a sad, yet funny narrator — it's entertaining and spiritually engaging.

THE REVIEWS ARE IN (from AMAZON):

3 out of 5 stars
Fast paced and exciting
By ygc9245 on February 4, 2016
Fast paced and tense. Loftus's knowledge of New York City and how to transit the town is impressive. A touch of Dickens and his 'heavenly guide' added some light to an otherwise tough story about love, guilt and forgiveness. Is this the beginning of a series? I will look for the next Jack Tyrell story!

5 out of 5 stars
Murderous Spirit is a great read
By Thomas J. Galligan on February 24, 2016
I read a lot. I mean, really I read a lot. There are three hundred books on my Kindle and the list is growing. This book just came out by Geoff Loftus,the novel is called Murderous Spirit, and I just now finished reading it. He hit a home run with this book! It is very interesting and seriously entertaining. I don't think I have ever recommended a book on the internet before, but I am now. This book is a really great read. I enjoyed it very much and know you will too.

In addition to writing a good action mystery, there is a spiritual element that is fascinating. Read it and see.

In Trade Paperback from CreateSpace (an Amazon Company)
Available in E-Books and Trade Paperback from BARNES & NOBLE and AMAZON
Available in iBooks at the iBOOKS STORE

CLICK HERE to read the EXCERPT

CLICK HERE to read Geoff's interview in America magazine