"Can one author combine a thriller, a romance and a ghost story? Geoff Loftus does so admirably in his fast-paced, well written and engrossing new novel about a man given a second chance from a wholly unexpected source: his dead wife, whose murder he holds himself responsible for. Let this one-of-a-kind story teach you something about love, forgiveness and even faith."

- James Martin, SJ, bestselling author of The Jesuit Guide to (Almost) Everything,
A Jesuit Off-Broadway
and The Abbey.

Jack Tyrrell was a burn out. A former Green Beret and U.S. Marshal, he's become a drunken loser who, once upon a time, accepted a bribe and was shot by the people who bribed him. Tyrrell survived the shooting. His wife, Maggie, did not.

Five years after her death, Maggie appears to him as a ghost and offers him a chance to make things right. She introduces Tyrrell to Harry, who may literally be heaven-sent. Tyrrell, with Harry working as his case manager, sets out to help a veteran who's suffering from PTSD and has assassinated a pair of Wall Street CEOs.

Action, murdered Wall Street titans, the Russian mafia, and a beautiful woman mix with questions regarding free will and what constitutes moral behavior to give this thriller a spiritual edge.

Tyrrell's story is a mix of Charles Dickens, Philip K. Dick and thriller told by a sad, yet funny narrator — it's entertaining and spiritually engaging.

In Trade Paperback from CreateSpace (an Amazon Company)

Available in E-Books and Trade Paperback from BARNES & NOBLE and AMAZON

CLICK HERE to read the EXCERPT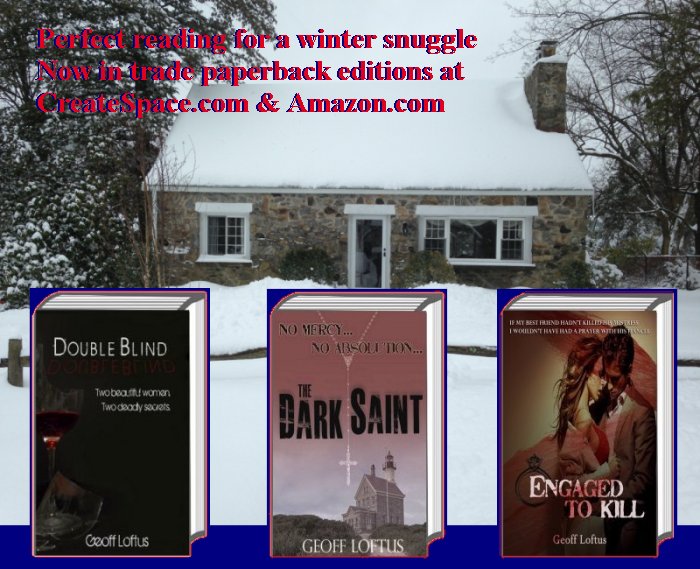 NOW IN PAPERBACK!
Thinking about snuggling in for a good read in front of the fire? Be sure you have plenty of: MURDER, MAYHEM and MERRIMENT! What could keep you warmer than a little bit of sex and some grotesque murders? You'll find both in these thrillers: DOUBLE BLIND, THE DARK SAINT and ENGAGED TO KILL. Thrillers always make good reading.
Paperbacks at CreateSpace and AMAZON | E-books at BARNES & NOBLE and AMAZON
LEAD LIKE IKE:
Ten Business Strategies from the CEO of D-Day

"The fate of the world hinged on the decision of one man – living in a small trailer, drinking too much coffee, smoking too many cigarettes, sleeping too little." This book focuses "on Ike's extraordinary management of a gigantic organization operating at the absolute extreme."

"The most difficult and complicated operation
ever to take place."
Winston S. Churchill

Available in hard cover, audio book, e-book and Spanish-language hard cover at:

Amazon

Barnes & Noble
HOME | BOOKS | FORBES BLOG | IN THE MEDIA | ARCHIVES | ABOUT | CONTACT


Copyright © 2016 Geoff Loftus. All rights reserved.