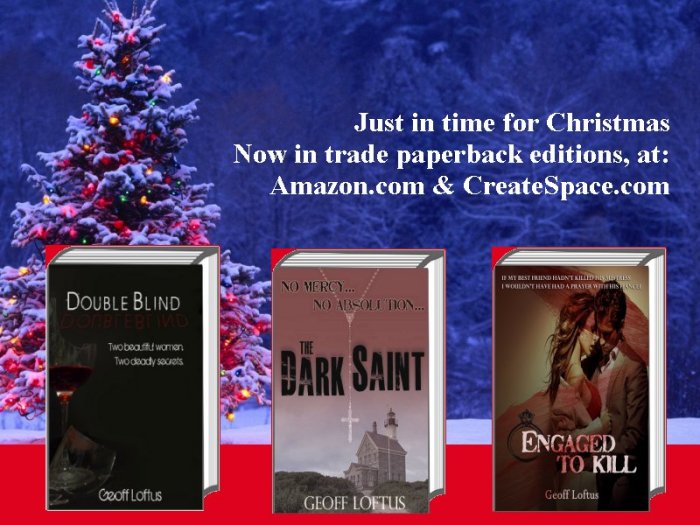 NOW IN PAPERBACK!
Want an old-fashioned Christmas? Be sure you have plenty of: MURDER, MAYHEM and MERRIMENT! What could be better at Christmas than a little bit of sex and some grotesque murders? You'll find both in these thrillers: DOUBLE BLIND, THE DARK SAINT and ENGAGED TO KILL. Thrillers always make good reading, even during the holidays.
DOUBLE BLIND | THE DARK SAINT | ENGAGED TO KILL
Paperbacks at AMAZON and CreateSpace | E-books at AMAZON and BARNES & NOBLE
LEAD LIKE IKE:
Ten Business Strategies from the CEO of D-Day

"The fate of the world hinged on the decision of one man – living in a small trailer, drinking too much coffee, smoking too many cigarettes, sleeping too little." This book focuses "on Ike's extraordinary management of a gigantic organization operating at the absolute extreme."

"The most difficult and complicated operation
ever to take place."
Winston S. Churchill

Available in hard cover, audio book, e-book and Spanish-language hard cover at:

Amazon

Barnes & Noble
HOME | BOOKS | FORBES BLOG | IN THE MEDIA | ARCHIVES | ABOUT | CONTACT


Copyright © 2014 Geoff Loftus. All rights reserved.